A throwback blog post from 2012!
Saxquest handed us our first opportunity for a performance and they have been steady supporters every year since.
by Dana
Recently an audience member said, "So, you really started this from nothing?"
Yup, I said, from nothing.
It started from nothing, nothing of Chamber Project existed in any from. And then there was that fateful night. A few friends, some old, some new, got together to hang out and enjoy a nice glass or two of wine. Being new to each other and all being musicians, the conversation naturally turned to music. We got excited about some music we wanted to play, and decided to have A MEETING. (Just so you know, musicians have rehearsals...not MEETINGS.)
So we had our first meeting, we brainstormed, we got excited about all of the possibilities, and we drank more wine. We created a group email account, we sent dozens of ideas over email. We had another meeting (and more wine).
We got lucky when Mark Overton at Saxquest asked us to put together something for a little mini-festival he put on in a tent behind his shop. We had our first gig! We decided to put together a whole season. We found a venue that would provide a space for us to set up a series of concerts, which was amazing. We celebrated, with just a little more wine.
Our first ever performance.
At Saxquest.
We fought about programming, we stressed about money, we experimented with concert formats. We struggled with the website, learned how to use social media. We were educated on the difference between PR and Marketing. We performed some great concerts, and maybe some not so great concerts. We built a board, we became a non-profit. We had our first fundraiser, created our first spreadsheet, and wrote and received our first grant!
We've learned we have hidden talents that don't involve our instruments. We've learned we have limits and we've pushed them. We've learned the challenges and rewards of working with your friends. (How do you tell a close friend that she's out of tune or that you think her big idea isn't so big - how do you take it when you're on the receiving end?) We've learned to be vulnerable and to be tough. I think the most valuable thing we've all learned is to trust each other, both on and off stage.
And we've also learned to stop drinking wine at meetings. Well, most meetings.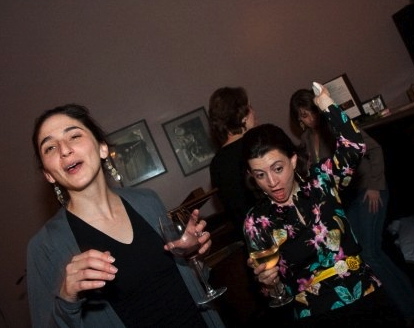 After a concert at The Wine Press, 2011?
Most importantly we've met so many wonderful people at our concerts, building a common ground for all people to come together.